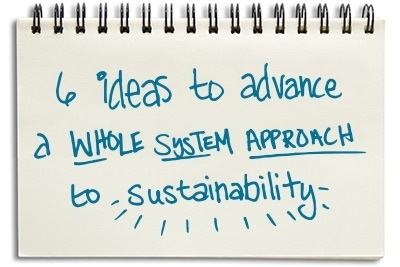 This year's California Higher Education Sustainability Conference (CHESC) was packed with information on leading technologies, strategies and case studies to help area universities move their sustainability goals forward. It's interesting when you consider that the insights from the conference can have even broader-reaching impact, since they can be readily applied to other types of institutions across the country, many of which are experiencing similar challenges.
At the conference it was quickly apparent that most campuses faced the challenge of operating in a siloed environment, which typically leads to a disjointed view of problems and limited, incomplete solutions. It reminded me of the tale of the blind men who tried to describe an elephant by touching just one area, and because each perceived the animal from his limited perspective, all of them were totally off base in their conclusions.
Additionally, in this environment the sustainability group is often separated from the departments that hold the purse strings, which, in turn, don't recognize the urgency of the problem.
Given the problems of the siloed approach, it's fitting that many of the best practices that emerged from the conference focused on taking a "whole system approach" to sustainability – developing a deep understanding of the value we are trying to create for our organizations and stakeholders, the physical, ecological, and human interconnections in the system, and the root-causes of problems. Here are some of the key learnings for improvement:
| | |
| --- | --- |
| | Create an institutional agenda for sustainability and integrate it throughout the university. For example, the University of California Office of the President Sustainability Policy sets goals of zero waste to landfill goal by 2020, and carbon neutrality by 2025. While different departments have different agendas—such as the Chancellor's Office wanting a lush, green campus environment, while facilities management and sustainability functions focused on water use reductions prefer to let grass brown and use native planting—by creating an institutional agenda that starts at the top, everyone pulls together to achieve the same goals. |
| | Follow the money. Since sustainability departments often don't have the funding they need, they should look for opportunities to connect with capital projects, leverage facilities management budgets, and find other sources of funding. The Cal State Fullerton facilities management team realized that 60% of their water use was for landscape irrigation. If they could half this use they would meet their mandate to reduce water use by 30%. They decided to aggressively pursue a turf removal project and replacement with drought-tolerant landscapes. Through this program they qualified for a $1 million rebate from Metropolitan Water District, and the campus landscaping looks fantastic. |
| | By looking at sustainability holistically, universities can establish powerful synergies, instead of working at cross purposes. Work conducted at the San Diego International Airport can serve as a best practice example of this. The airport's design, construction and facilities development engineers wanted to remove stormwater off the site to prevent flooding, while the environmental affairs department was concerned about more storm drains and washing potential pollutants out to the Bay. By working together, they are now building solutions to capture the water on site and re-use it as needed (e.g., in cooling towers), which not only addressed flooding and water quality issues, but also water shortage concerns. In a university example, multiple department stakeholders came together to transform a meandering road unfit for vehicle use into a bioswale. It served many purposes: it created a more pleasing campus landscape, provided water for irrigation, and improved the water quality by capturing and infiltrating stormwater. |
| | Benchmark energy and water use in buildings across the campus and monitor continuously. Place sensors throughout the campus to better understand issues and needs and benchmark the buildings against each other. For example, you might want to determine why smaller buildings are using more energy than larger ones, or why so much energy is being consumed at night or on weekends when the buildings are largely unoccupied. Smart buildings, which provide real-time monitoring of key functions, can help facilities managers find issues and improve energy and water savings. |
| | Use the power of collaborative procurement to drive sustainability. UC San Diego and UC Santa Cruz developed a pilot program to identify and promote green suppliers through collective buying power. This can make a huge difference, considering that UCSD has 29,000 employees who can make buying decisions. In one year alone, the university issues over 200,000 Purchase Orders, totaling one billion of spend. |
| | Involve stakeholders not only for buy in, but also for their involvement. Again, at CSU Fullerton, facilities management connected with faculty and students to come up with a way to efficiently inventory and monitor leaks from irrigation systems. Needless to say, this was a win-win for all departments. |
There was an exciting free flow of ideas, innovations and best practices at CHESC. While I just touched on a few of them here, I hope that it helps you create a more connected, whole system approach to sustainability throughout your university or institution so you can effectively implement improvements in this critical area.
If you would like to discuss these sustainability ideas or others, contact me at bchandler@haleyaldrich.com.