In May, Haley & Aldrich team members attended Battelle's Tenth International Conference on Remediation of Chlorinated and Recalcitrant Compounds and participated in an exciting knowledge exchange on the latest technical advances and insights in site remediation research and application with fellow scientists, engineers, regulators, and other environmental professionals. Battelle's 2016 Chlorinated Conference included more than 900 platform talks and poster presentations and 10 panel discussions on key topics in the field.
Since many of you weren't able to attend the event, we wanted to share some of the key takeaways from the conference. While there were several topics that dominated the key technical tracks, one main area of discussion was newly emerging contaminants. Here are some of my key takeaways from the newly emerging contaminants sessions.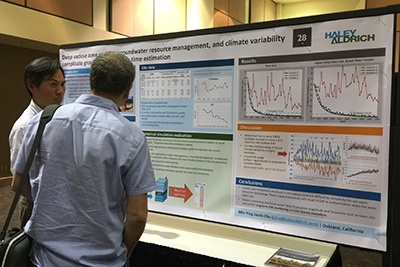 Per- and Poly- Fluoroalkyl Substances (PFAS), including perfluorooctane sulfonate (PFOS) and perfluorocarboxylic acid (PFCA), are a class of compounds used in many manufactured products, such as carpeting, apparel, upholstery, food paper wrappings (microwave popcorn bags), fire-fighting foam and metal plating. A panel session ("Programmatic Challenges Related to the PFAS Emerging Contaminant Class") and two presentation tracks ("Perfluorinated Compounds – Characterization and Analysis, and Remediation") focused on this group of chemicals at the conference. There was a great deal of interest in these sessions. Major takeaways from these sessions include:
Previously, analysis of PFAS was hampered by a lack of analytical standards. Today there is still a lack of differentiation of both analytical identification and understanding of chemical characteristics.
The retardation of this range of compounds in groundwater is dependent on whether they are cationic or anionic.
Longer chain molecules in this group are more hydrophobic, and shorter chain molecules are dominated by ionic interactions.
Bioaccumulation occurs in protein as opposed to fat, so men are more highly impacted than women.
Impacted parties are using traditional treatment methods, including: filtration using reverse osmosis; sorption using carbon, biomaterials, synthetic media and minerals.
Aerobic biotransformation has been confirmed, however by-products of PFAS degradation used in-situ chemical oxidation have not been identified. PFAS is also vulnerable to reduction using zero valent iron, and thermal destruction.
There are four new EPA documents and a recent drinking water advisory for this class of compounds.
As of the conference, these substances have not been identified as hazardous chemicals by the EPA; however, they are listed as hazardous chemicals by many states.
The EPA has established a Provisional Health Advisory for PFOS of 70 parts per trillion.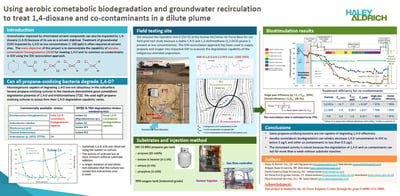 1,4-Dioxane is a compound mainly used as a stabilizer for the solvent 1,1,1-trichloroethane (TCA). The technical, regulatory, and scientific issues associated with this compound are generally more developed than PFAS compounds. A panel session, "1,4-Dioxane's Emerging Dilemma: What's a Remediation Manager Supposed to Do?" and a presentation track, "1,4-Dioxane", were presented at the Battelle program. Here are some of the insights that were discussed:
New removal technologies include Haley & Aldrich's Dr. Jacob Chu's field and modeling work establishing aerobic cometabolic degradation as an effective technology for groundwater. Other remediation technologies include in-situ oxidation

and

ex-situ extraction followed by removal using synthetic media.
Only 30 states have a 1,4-dioxane regulatory standard. These standards range from sub-ppb to 10s ppb. The EPA drinking water concentration representing a 1 x 10-6 cancer risk level for 1,4-dioxane is 0.35 μg/L. The current state standards may change in the future, creating uncertainty in technology selection and site closure strategy development.
Currently many sites have not been tested for 1,4-dioxane. It is expected that, once 1,4-dioxane becomes a regulated chemical for cleanup, many sites may be re-opened.
More AFCEC sites have started including 1,4-dioxane as part of some of their sampling events. AFCEC site data reveals the presence of 1,4-dioxane at a level that may be subject to cleanup in the future.
Site owners may be reluctant to know whether they have 1,4-dioxane problems because it is not currently regulated. However, site owners should be aware that early monitoring will help establish the 1,4-dioxane concentration trend with time and can be beneficial when 1,4-dioxane monitored natural attenuation is applicable for their sites.
Successful pilot test studies have shown that (1) 1,4-dioxane in the vadose zone can be remediated using the high vacuum SVE and dry air injection and (2) 1,4-dioxane in groundwater can be treated through propane cometabolic biodegradation using air sparging or groundwater recirculation approaches.
Other field studies demonstrated treatment of 1,4-dioxane together with tetrachloroethene (PCE), trichloroethene (TCE), and hexavalent chromium (CrVI).
These are just some of the highlights on emerging contaminants from the many technical discussions at the conference.

In addition to newly emerging contaminants, other technical areas discussed at the conference included in-situ remediation innovations, mass flux/mass discharge, monitored natural attenuation, thermal remediation, and vapor intrusion detection and mitigation, among others. Click here to view poster presentations on these topics and others that Haley & Aldrich staff presented at the conference.