Growing financial constraints continue to be the most significant overarching trend creating widespread challenges for higher education, including the built environment. Colleges and universities face increased competition, shrinking budgets, declining enrollment, demand for new, elaborate structures, and more. All the while, funding has stayed stagnant since before the recession. Leaders in facilities management and capital planning are asking themselves, "How much longer can we go on like this?"
In 2017, higher education continued to address long-standing financial and management issues that have formed the trends that will continue this year. I've narrowed down the major trends from 2017 so you can see what they mean for 2018:
Infrastructure maintenance backlogs growing while schools build new state-of-the-art facilities
College and university campuses are grappling with the balance between maintaining and renovating deteriorating mid- to late-century buildings and the demand to create sophisticated new structures. The competition for new students is as intense as ever. As a result, higher education institutions are borrowing and spending more money to build enticing state-of-the-art facilities while neglecting older structure maintenance backlogs that continue to spike costs.
This year, addressing campus facility maintenance backlogs continues to be crucial. While this is no easy process, it starts with working as a team to:
Understand the most important things to work on so the campus environment can support the institutional mission
Identify current-state problems and opportunities
Perform an inventory to prioritize asset types within buildings
It's crucial to go to where the work actually happens to get a real view of obstacles that get in the way of maintenance staff doing their best work.
The growing maintenance turnover problem
When thinking about what it costs to maintain structures, most people think of materials and supplies, not staff. Yet, in 2017, facilities management turnover was a big problem that will only get worse without intervention.
Campuses are facing growing difficulties in operations and maintenance staffing due to two main reasons:
People who know how to operate "old" systems are retiring and taking that knowledge with them
It's challenging to find the right workers who know how to deal with today's more complex buildings
To start meeting the first challenge, facilities maintenance departments can document all processes in detail. Comprehensive maintenance guidelines will make it easier for new talent to deal with old systems. Computerized maintenance systems, if implemented properly, can help capture critical information.
And then there's the critical issue of placing the right people in the proper roles, a task that has gotten harder and harder over the years. Facilities management today is different from the traditional hands-on approach many are used to and has transitioned to more tech-driven methods. The shift means that institutions must hire maintenance workers who have a higher level of skill than what was once traditionally expected. While this can be an initially uncomfortable shift, the good news is campuses can hire managers who have greater flexibility and skills.
More and more schools using P3 construction contracts
In 2017, I wrote about how Public-private partnership (P3) construction contracts became even more popular with public and private universities. For public universities, P3s have been beneficial during these times of reduced public funding. Now, we're seeing private universities facing operating costs that are outpacing tuition, which has led them to also turn to P3s. Last year, 25% of P3 contracts were with four-year private institutions.

While P3 contracts are beneficial to schools, they are also very complicated. However, as public and private institutions face shrinking budgets, they both need to be more creative about financing campus development projects. P3s work well because they can ease crippling deferred maintenance burdens and help schools continue to attract students with new amenities and facilities.
Increasing use of collaborative design-build and integrated project delivery
Design-build is a favorite project management method because it lets designers and builders collaborate to meet project goals. Integrated project delivery goes further and aligns objectives, goals, and practices through a team-based approach. These methods differ from the traditional world where the designer and the builder work in separate silos with separate goals. Design-build and integrated project delivery services work well because they give the designers and builders the opportunity for the kind of collaboration the construction industry needs.
Last year, design-build and integrated project delivery methods proved again to be an increasing trend — and we should expect more of that in 2018. In a Construction Dive article from last year, one of our clients, Sue Klawans, Senior Vice President and Director of Operational Excellence and Planning at Gilbane Building Company, described the trend befittingly and said, "There will be a continuing and expanded trend towards project team collaboration. I call that moving from an art to a science."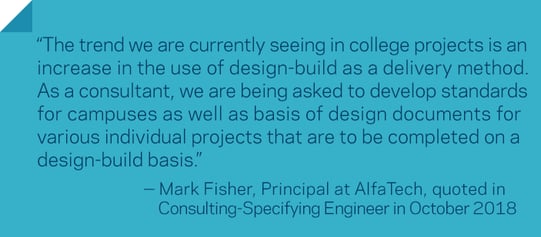 Campuses being smarter about space planning
Higher education institutions are learning that it pays to be smarter about operating and maintaining buildings, including increasing the efficient use of space. Last year, more and more campuses really examined space utilization and planning. The trend has no choice but to grow in 2018.
Fitting programs into the appropriate space is complicated — especially when a department needs rooms with specialized new technology, but their assigned space was constructed in 1967 and can't accommodate their needs. Across the nation, some spaces on campuses sit nearly empty while administrators scratch their heads trying to find room for all classes.
The problem goes deeper than square footage, which is only one component of making the most of existing space. Before planning even starts, facilities management must be clear on the school's overall future goals and priorities — it's the only way to truly gather requirements for classes. Once facilities management experts have the right information, the planning starts.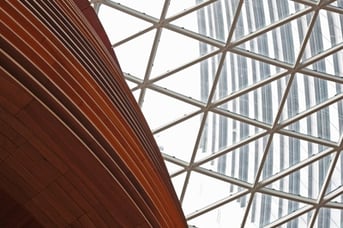 Additionally, when it comes to maximizing campus space, many schools are getting creative by constructing underground parking, labs, libraries, and even classrooms. Quads are going on top of parking structures; food courts bloom from nothing but empty space between buildings — expect to see more of this in the coming years.
But planning is never set in stone. As teaching methods and student priorities change, so should plans. Reviewing and adjusting plans based on evolving strategic goals is one of the most important aspects of being smart about campus space planning.
Environmental compliance evolving to environmental management
Environmental noncompliance is expensive, and higher education institutions today don't have the budget dollars to waste on fines and costly upgrades. Through past EPA enforcement, campuses have learned how to comply, but are now realizing they can go beyond mere compliance and evolve into proactive management to support campus-wide environmental and sustainability goals.
Industry associations APPA and CSHEMA are jointly working to help facility managers go above and beyond with their 2017 guide to environmental management. Environmental compliance requirements are continually evolving and are becoming increasingly complex. It's essential to have a collaborative and continuous improvement mindset to effectively protect a school's reputation from the risks of non-compliance, as well as support complementary compliance and sustainability initiatives. Many times, campus leaders can address compliance on their own, but there are times when third-party expertise can reveal new ways of doing things to help campuses find hidden value and maximize resources.
By 2017, even as regulations started to ease for the first time in years, schools knew that just checking off boxes was not enough anymore. Today, higher education institutions are expected to be good stewards of the environment and ensure they stay in compliance. This won't change anytime soon.
Getting the right advice is key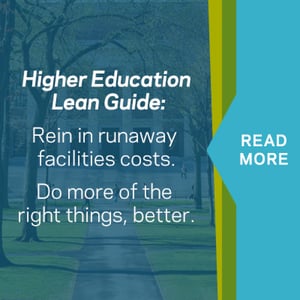 Higher education institutions need to focus on educating students. They often aren't sure if they have the experience, tools, and resources required to meet today's unique built environment challenges. Usually, the best solution is finding the right experts who can look for what's not obvious to help schools reach solutions to ease today's constraints.
While we've touched on some of the biggest built environment trends here, we know different institutions face different challenges. What trends are you seeing this year? Any surprises?
Find out what 2018 trends mean for your institution and drop us a note — let's have a conversation.