This is an exciting day in Haley & Aldrich's journey, as we revitalize our brand to reflect what our clients value from working with us. Through our recent brand research, we established that we are sought out for our fresh approach to longstanding and emerging environmental and engineering challenges. We bring the right team together from our nationwide network of experts who take the time to deeply understand the nature of the problems our clients are trying to solve. But we're not just the "idea people." Our clients know they can depend on us to deliver outcomes that exceed their expectations.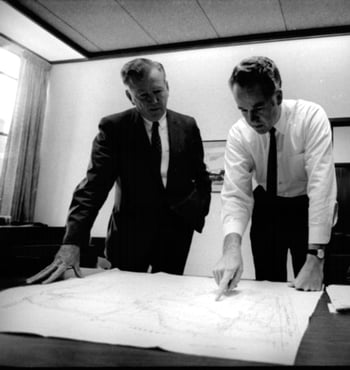 While we have a new logo and all new website, the H&A of today is the company that Jim Haley and Harl Aldrich set out to build. In 1957, Harl left his teaching position at MIT and Jim left the U.S. Army Corps of Engineers to start what was among the first companies to practice geotechnical engineering. True pioneers, they desired to create a company focused on innovation, client service, and technical excellence. These three pillars have been core to the H&A Way, and are what distinguish our brand today. At our foundation is our technical excellence across all major environmental and engineering disciplines. We build from there by gaining a deep understanding of the multi-stakeholder problems our clients are trying to solve, and then look for better ways to solve those problems so that all stakeholders will be satisfied with the outcomes, now and in the future.

Today, Haley & Aldrich comprises more than 600 staff members across the U.S., helping clients in every major commercial sector with core services in planning, risk and compliance, engineering, and environmental, as well as specialty services like sustainability and operational excellence. Yet we are structured to operate as a single, coordinated team to provide those services, aligning the best minds from our organization for the challenge at hand – and delivering a consistently high quality of service.

We welcome you to this next marker in the Haley & Aldrich journey. As always, we are ready to take on the challenges that confront you every day and together, build a better world.